Over the past year, I have found myself with more time on my hands. After pastry school, I spent some time conducting cooking classes, developing Mona's Table, I and relished being a soccer mom. I often swore about all the driving I had to do, but those times in the car with my son were actually pretty special moments. On those long, boring rides he seemed to let his "cool teenager" mask come off and we shared some lovely conversations.
Now that our son has a driver's licence and a car of his own, he doesn't seem to need to me as much (although I still hear, "MOM!! Where is my…," at least three times a day). So what was I to do with my new found freedom? Get a job!!! I was looking for something with a deep meaning for me and I found my perfect fit with Mealshare.
Mealshare is a social entrepreneurship that is fighting youth hunger by partnering with restaurants and their guests to fund meals to youth in need. In a nutshell, here is how it works. Mealshare operates under a simple buy-one, give-one model, that allows guests to turn their dining out, into helping out! Anytime you order a Mealshare branded menu item, you receive your meal just as normal, but now, a child or youth in need will receive a meal as well! Easy!
The meals are provided through partner charities in communities in which Mealshare operates. It also provides meals internationally through Save the Children and WE. Mealshare strives to make sure that the meals they provide are the catalyst for long-term systemic change, and they do this by partnering with solution-focused charity partners. Their charity partners don't just provide meals, they use their meals to do much more. These meals incentivize education and/or expose families to new programs that can change their lives. Mealshare is all about using meals in very strategic way to have a long-term impact on youth.
This job means a lot of connecting with restaurants which in turn means a lot of dining out…no wonder I wanted this job! I also wanted to go back to work with a team. I love the new team I work with and I am hoping they will keep me young (my new bosses were born the year I graduated High School)!! But there is another reason I joined the Mealshare team. On my website, I have this quote from Mastering the Art of French Eating by Ann Mah.
"Food offers not only fuel for the body but also a connection between the people who have joined you at the table, between the generations who have shared a recipe, between the earth and the culture and cuisine that have sprung from it."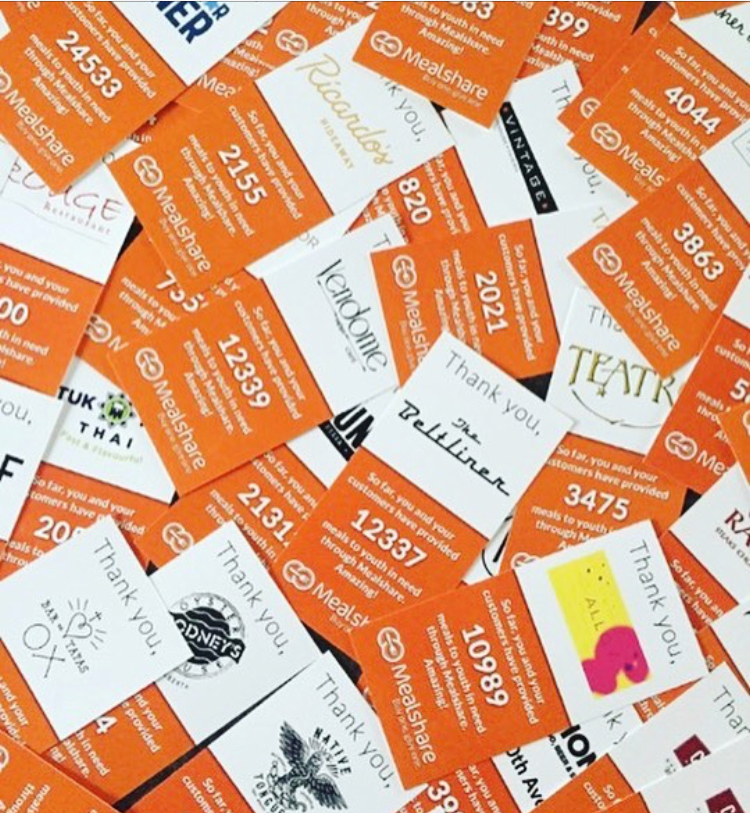 Mealshare was launched just about 5 years ago and is closing in on its 2,000,000th meal!!
I do believe food is about so much more than fueling the body and I am lucky that food for me brings beautiful memories of family, friends and travel. It saddens me to know that many people don't feel this beauty because they are too hungry. Doing work that could help change this is the biggest reason I chose to work with Mealshare.
Mealshare is a part-time gig for me, so you will still find tips and recipes on my Facebook page, gorgeous food pics on my Instagram (with even more inspiring places to eat out) and of course I am still available for in-home cooking courses. Take a look around this site for some ideas! And next time you are dining out in Calgary, Vancouver, Winnipeg, Toronto, Ottawa, Montreal or Austin, Texas remember to look for this logo on the menu!
Dyboysia!