It is that time of the year when I am deciding what Christmas Cookies I will be baking this year. I always try two or three new ones from all those cooking magazines that I subscribe to. However, there are two that always make my list, my Grandma's Shortbread and Ginger Snap cookies. As soon as the first batches of these are in the oven I start to feel the Christmas spirit!! I also love these two cookies because they are simple to make and both freeze well, so I can make them early in the season and just pull them out as our need them.
Now it would not be Christmas without Ginger Snaps, but initially I really wasn't a fan of them. Then one day back in my office days, a colleague brought in a batch. I was having that 3:00 pm fade, so I decided to have one of her cookies….they were amazing! They were crispy on the edges and soft in the middle, but most importantly they actually tasted like ginger! She admitted to me that she made an error while she was making them and used a tablespoon of ground ginger instead of the teaspoon that was called for. I told her she should make them that way all the time!! When I got home, I started adjusting my recipe and now it is one of my Christmas staples!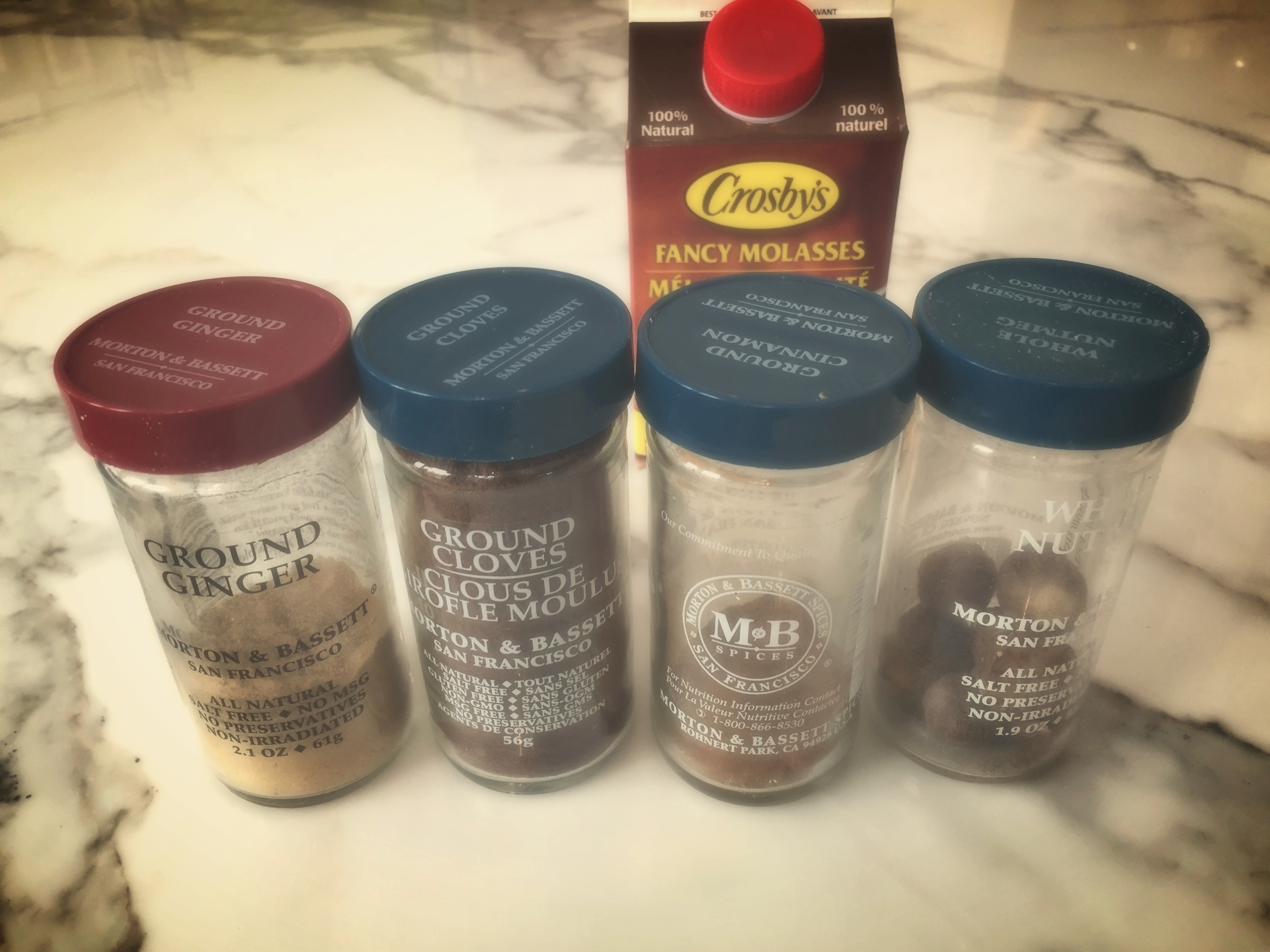 Ginger Snaps get their flavour from ginger, cinnamon, cloves, nutmeg & molasses. There are three main kinds of molasses:
Fancy: these are the lightest & sweetest.
Cooking: a combination of Fancy & Blackstrap. Slightly less sweet than Fancy molasses.
Blackstrap: these are the darkest and most robust with a somewhat bitter taste. These can over-power the other flavours, so choose Fancy or Cooking molasses for your baking.
A few tips for making these cookies:
Use freshly grated nutmeg! This should go for all recipes. You shouldn't even own grated nutmeg!
Make sure your ground ginger is fresh. Your jar should be less than 6 months old. If you have stored it properly, you can probably push this out to a year. Proper storage means away from light and heat, so keeping your spices in a cupboard next to your stove is not a good idea!
If you prefer a crisper Ginger Snap cookie, bake your cookies for an extra 2 minutes.
These cookies are rolled in granulated sugar before you bake them, so carefully watch for burning. If your oven runs hot, you may want to double up your sheet pan to keep the bottoms of the cookies from over-browning.
For extra festive cookies, you can roll the cookies in red or green coloured sugar. The effect is subtle but looks pretty on your cookie platter!
Dybosia!
p.s. If you want the recipe for my Grandma's Shortbread Cookies you can find it by clicking here.
Ginger Snap Cookies
makes about 4 dozen cookies
200 g (1 cup) granulated sugar, plus additional for rolling
170 g (¾ cup) unsalted butter, softened
85 g (¼ cup) molasses
1 egg
280 g (2¼ cup) all-purpose flour
10 ml (2 tsp) baking soda
2.5 ml (½ tsp) salt
15 ml (1 tbsp) ground ginger
5 ml (1 tsp) cinnamon
2.5 ml (½ tsp) ground cloves
1.25 ml (¼ tsp) freshly ground nutmeg
In a large bowl, beat the 200g sugar, butter molasses and egg until light and fluffy. Stir in remaining ingredients (except additional sugar) until incorporated. Cover with plastic wrap and refrigerate for 1 hour to make the dough easier to handle.
Heat oven to 350°F. Shape dough into 2 cm (1") balls and roll in granulated sugar. Place 4 cm (2") apart on ungreased cookies sheets. Bake for 8 to 12 minutes, until set. For soft snaps bake on the lower end of the range. For crisp snaps bake to the longer edge of the range. Cool on pan for 2 minutes and then transfer to rack to cool completely.
Store at room temperature for up to a week, or freeze for longer storage.